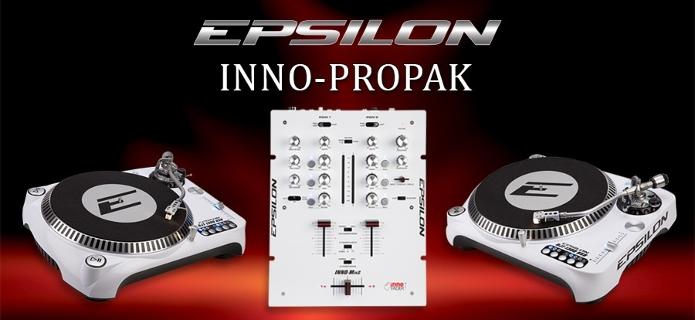 Epsilon DJT-1300 USB Direct Drive Turntable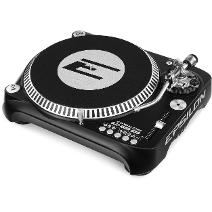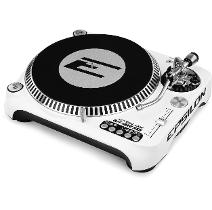 The DJT-1300 USB is a professional multi-speed digital quartz turntable with direct drive at the top.
It has 3 different playback speeds of 33,45 and 78 rpm, which can be easily switched at the push of a button. The pitch is also adjustable over 3 levels (+/- 8%, +/- 16% and +/- 50%) for precise beat mixing, the large, high-quality Dual Play / Stop button ensures precise operation, even in difficult situations.
The Epsilon turntable also has a Plug & Play USB connection, which communicates with any DJ software for PC or MAC. The DJT-1300 USB features an electronic brake and a 330mm die-cast aluminium turntable with a static balance S-shaped tonearm with removable headboard and phono/line output.
Available in Black and White.
Super professional quality at a sensational price!
Features Epsilon DJT-1300 USB
Ultra Hi-Torque Direct Drive DJ Battle style Turntable with USB output
Large Dual Play / Stop buttons for custom Battle Style with electronic brake
USB output for PC & MAC compatibility and USB Recording
Anti-Skating control with a 330mm aluminum die cast turntable platter
3- Speed 33 1/3, 45 & 78 rpm speed playback with Phono / Line output
Static balanced S-shaped tone arm with detachable head shell
Instant Adjustable pitch control buttons at +/- 10%, 20%, 50%
Removable LED target light
Available Colors: Black, Silver, White
Specifications Epsilon DJT-1300 USB
Type 3-speed full manual
Motor 16-pole, 3-phase, brushless DC motor
Driving Method Direct drive
Turntable Platter 330mm dia. Aluminum die cast
Speeds 33 1/3 and 45 rpm and 78rpm
USB Function USB rec. Function
Wow and Flutter Less than 0.1% WRMS (JIS WTD) with 33 1/3 rpm
S/N Ratio More than 55dB (DIN-B)
Pitch Controls +/- 10%,+/- 20%,+/-50%
Starting Torque More than 3.5kgf.cm
Braking System Electronic brake
Starting Time 0.3 sec with 33 1/3
Braking Time 0.3 sec. with 33 1/3
Time for Speed Change Less than 0.3 sec. from 33 1/3 to 45 rpm.
Less than 0.3 sec. from 45 to 33 1/3 rpm.
Less than 0.3 sec. from 33 1/3 to 78 rpm
Technical Data Epsilon DJT-1300 USB
Power Consumption: 13.5W
Weight: (9.38 kg)
Dimensions: 449(W) *370(D) *145(H) (mm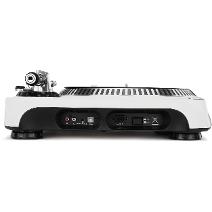 Epsilon innoMIX2 DJ Mixer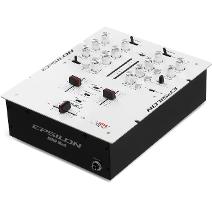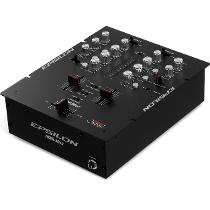 EPSILON INNO-MIX 2 is an ultra compact Pro DJ Battle Mixer with a built-in mini iNNO – Fader Cross-Fader. This professional 2-channel SCRATCH mixer is built to work for over 4 million cycles with contactless design delivering butter smooth, precise and fast transitioning between channels.
INNO-MIX 2 is a professional Battle Mixer with an integrated iNNO-FADER cross fader that delivers a buttery smooth feel every professional DJ is looking for. The isolated 3-band equalizer with 100% kill features for High, Mid, and Low frequencies using rotary knobs or by using the instant dedicated kill buttons delivers that one of a kind mix. This Pro DJ mixer also includes features like cross-fader start, cross-fader curve and reverse channel fader mode. The balance TRS ¼" jacks for master output allows for easy mobile or club install.
Super ingenious quality at an absolute competitive price!
Features Epsilon Inno-Mix2

iNNO-Fader 2-Channel ultra compact Pro DJ Battle Mixer
Superb Scratch Performance with High-Quality Sound
Isolated Rotary 3-Band equalizer with kill features
100% Instant Kill Buttons for High, Mid, & Low Freq
Cross Fader Start, Cross Fader Curve & Reverse Channel mode
Balance TRS ¼" Master Outputs & ¼" Headphone Input
Rotary Gain, Rotary Cue Gain & Master
Phono / Line inputs & Phono / Line switch
Mic level control, Mic Talk-Over & 2 Band Mic EQ
Lab Tested for more than 4 million cycles
Specifications Epsilon Inno-Mix2
Input / output impedance & sensitivity:
Line: 10K OHM /-14dBV (200mV) +/-2dB
Phono: 47K OHM /-50dBV (3.16mV) +/-2dB
Mic: 1.5K OHM /-54dBV (2mV) +/-2dB
Master: 100K ohm
Phones: (Load=32ohm) 33 OHM /0dBV (1V) +/-2dB
Technical Data Epsilon Inno-Mix2
Dimensions:9.25" (W) x 11.29" (D) x 4.27" (H) Inches
Weight: 6.4 lbs / 2.9 kg