The innoFADER Pro 2 Revolutionary Non-Contact Fader
The innoFADER Pro2 is the ultimate replacement audio fader. It gives you an ultra precise ± 0.05mm cut-in accuracy for even tighter control of your scratches. Separate left and right cut controls make it easy to adjust without the need to recalibrate. And for the perfectionist in you, it even has super precise presets which allow you to do things like shift the cut point by a mere 0.04mm, less than even the thickness of your hair.
The Pro2 now fits more mixers than ever, with easier installation all without modification. Please view innoFADERS compatibility chart for full list. The adapter boards are already insulated and marked clearly to show you the specific one you need for your mixer.
Next generation flagship fader
Features
Simplified installation without extra adapters or modification
Compatible with widest range of mixers
Simplified Rane mixer calibration process
Long body construction
Separate Left & Right cut controls
Adjustable tension
ultra fast 1.2ms response time
Ultra precise +/- 0.05mm cut accuracy
Deep customization for the most discerning DJ'S
8mm fader stem
Advanced non-contact capacitance technology
Long life, ultra low maintenance
Included in pack :
Various adapter plates for a range of mixers including DJM-800/900, Rane TTM, Stanton, Allen & Heath, Vestax
Various connection cables + screws
2x Fader Knobs (1x original, 1x 1.2mm higher model)
De-Oxit lube
Miniscrewdriver
25 cue markers, 2 vinyl labels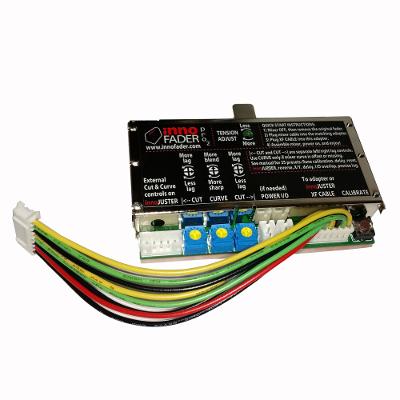 To return to the previous page, please click: BACK