The innoFADER PNP Revolutionary Non-Contact Fader
The innoFADER has been designed to completely change the way you feel about the crossfader. With four models available, the new PNP - is the latest model to join the range with simpler plug and play fitting and constructed to the highest standard and is compatible with a wide range of mixer models.
This essentially fits the same mixers as the original Innofader with the following improvements:
Extra knob!

No adapter boards!

On-board wiring tester

Reversible 3 and 4 pin VCA cables

Denon / Rane Empath cable included

Added insulator card on the bottom

Added DJM-800 and DJM-900 mounting brackets

2 Vinyl marking stickers included
Features:
Exclusive all new non-contact, variable capacitor technology

No bleed/cracking – Ever!

Sturdy design with 8mm fader stem

Perfectly weighted and balanced fader

Simple plug and play installation

No adapter boards


Adjustable curve

Onboard adjustment of both the cut-in point and the curve

Single cut-in adjustment for both sides

100% resistant to dust, smoke, temperature and moisture

No cleaning required

Using only the highest quality parts for extra reliability and durability

Highly polished premium grade stainless steel rails for that extra smooth glide
The innoFADER offers unparalleled levels of quality and adjustability that you just don't find in other crossfaders. Try one today to find out what an innoFADER can do to improve your mixing.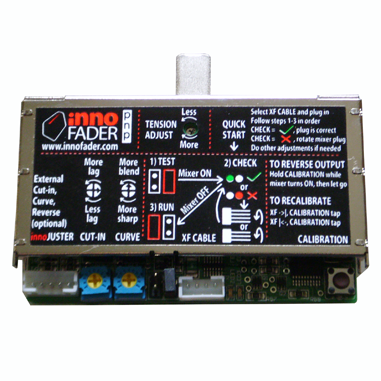 To return to the previous page, please click: BACK