The innoFADER DJM 909 Revolutionary Non-Contact Fader
The innoFADER 909 again includes all the same features as the entire range of innoFADERs, however this model has been specifically designed to exclusively fit the Pioneer 909/707 mixer models.
Features:
Exclusive all new non-contact, variable capacitor technology

No bleed/cracking – Ever!

Sturdy design with 8mm fader stem

Perfectly weighted and balanced fader

Designed to plug and play

Ultra wide range tension adjustment

Adjustable curve

Onboard adjustment of both the cut-in point and the curve

Single cut-in adjustment for both sides

100% resistant to dust, smoke, temperature and moisture

No cleaning required

Using only the highest quality parts for extra reliability and durability

Highly polished premium grade stainless steel rails for that extra smooth glide
The innoFADER 909 offers unparalleled levels of quality and adjustability that you just don't find in other crossfaders. To find out what an innoFADER 909 can do to your mixer try one today.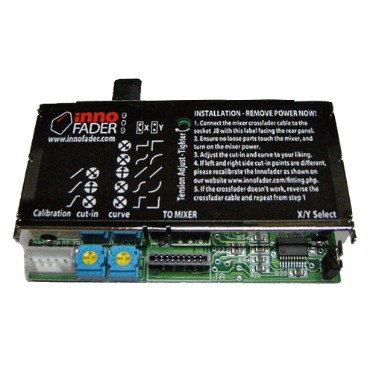 To return to the previous page, please click: BACK